JACKSONVILLE, FLA. (PRWEB) APRIL 21, 2020
Enterprise Online, LLC, previously doing business as Web.com for Enterprise, revealed its new bran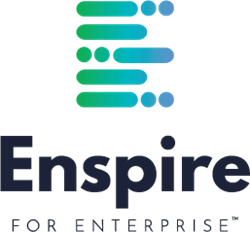 d, Enspire for Enterprise, today. Recently acquired by Perseus Group, which is an operating group of Constellation Software Inc., Enspire for Enterprise has been a recognized market-leader for almost 15 years by delivering scalable digital marketing solutions to franchise, co-op, and other types of networked businesses.
The rebrand is more than cosmetic; Enspire for Enterprise reflects the company's commitment to inspiration and innovation, passion for serving their customers, and mission to deliver bold, creative solutions that empower businesses to exceed their goals.
"We took this opportunity to ensure our name and brand are consistent with our approach and our values," said Denise Lynch, President of Enspire for Enterprise, "We serve as an extension of our clients' marketing teams and are honored to partner with them to deliver tailor-made solutions that meet the needs of their unique networks. We forge strong relationships in which our clients can confidently partner with us to achieve their goals."
The new Enspire for Enterprise visual identity provides an expressive new way to embody the company's expertise and experience in digital marketing, while asserting the bold and imaginative qualities crucial to delivering cutting-edge digital technology solutions. The abstract 'E' icon is not only symbolic of "Enspire" but also represents the varying sequence of interactions within a large network and the multitude of different individual people and businesses, near and far, who are served. The color palette is a vibrant interpretation of the energy and passion of the Enspire for Enterprise brand.
With full-funnel solutions that scale to support thousands of locations, Enspire for Enterprise's powerful business intelligence platform, Centermark, remains core to the company's services. Intuitive desktop and mobile layouts provide easy access for corporate business leaders and location owners alike to gain critical insights from their digital campaigns. The company's continued focus on innovation is evident on their product roadmap, as extensive new features are slated for release in the coming months.
The Enspire for Enterprise rebrand includes a new logo, brand guidelines, and website. Please visit http://www.enspireforenterprise.com to learn more.
About Enspire for Enterprise
Enspire for Enterprise enables networked businesses to achieve and exceed their goals. The company's mission is to serve their clients by building bold, creative solutions that make businesses better. As an extension of each client's marketing team, they use cutting-edge digital techniques to accelerate growth for franchise, co-op, dealer-manufacturer, and large brand clients. Enspire for Enterprise has accumulated nearly 15 years of experience partnering with almost 100 multi-location and franchise networks to deliver digital marketing services to thousands of locations worldwide. Enspire for Enterprise's strategy is to continue building its portfolio of services designed to help networks build their brands, engage their customers, and grow their businesses. For more information about Enspire for Enterprise, visit https://enspireforenterprise.com.
For more information about Perseus Group, visit https://csiperseus.com/